Hockey aficionado Irv Osterer shares a history of Ottawa's Jewish professional hockey players as he welcomes newly acquired defenceman Jakob Chychrun.
The Ottawa Senators hockey team recently acquired defenceman Jakob Chychrun, who is a dual American-Canadian citizen of Ukrainian and Jewish descent. Chychrun is the first Jewish player to skate for the Senators since Malmö, Sweden's Robert Burakovsky was the AHL rookie of the year, in 1993.
Chychrun represented Canada in the U18 world Junior championships in 2016 and was drafted by the Arizona Coyotes in the first round, 16th overall in the 2016 NHL draft.  His addition to the Sens team should solidify Ottawa's defence and improve its five-on-five play. It will hopefully give them the boost they need to secure a wild-card playoff position in the competitive NHL eastern conference.
The trade is a homecoming of sorts for Chychrun as his father, retired NHLer Jeff Chychrun, was raised in Ottawa. The Chychrun family still spends summer months in their home near Arnprior.
While in recent times David Hymovitz, Corey Pecker, Carter Camper, and Ottawa's own Jason Bailey have skated for the Senator's AHL affiliates in Binghamton and Belleville, only one other Jewish athlete has played for the parent club in the NHL. 
That honour goes to Niagara Falls native Max Kaminsky (1913 – 1961) who was with the Ottawa team in 1933 and moved to St. Louis when the Sens folded in 1934. He subsequently played with the Boston Bruins and Montreal Maroons, but spent most of his career in the AHL, winning two Calder Cups before retiring in 1946. Kaminsky coached the St. Catharine Tee-Pees to a Memorial Cup in 1959-60. The Max Kaminsky Trophy is awarded annually to the OHL's to the OHL's Most Gentlemanly Player. 
Sudbury's Joe Ironstone (1898 – 1972) came close. He signed as a free agent with the original Senators in 1924-25 as a spare goaltender and even appears in an Ottawa jersey in the V145-2 hockey cards, but did not play an NHL minute. He appeared on the ice only once during his stay in the nation's capital — leaving the bench during a brawl and skating to centre ice, swinging his goalie stick so that nobody would approach him.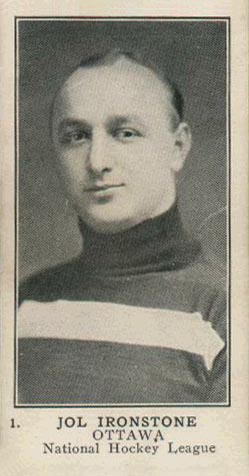 He was loaned to the Maple Leafs as an emergency replacement by the CPHL Toronto Ravinas on March 3, 1928, and recorded a 0-0 shutout against the New York Americans. Ironstone family folklore recounts that Joe insisted on being paid a fair wage, Leafs owner Conn Smyth was furious and told Ironstone he would never play another NHL game. The story is recounted in an excellent radio drama by author Paul Davies. Ironstone returned to Sudbury and played superbly in a losing effort for the Falconbridge Falcons in the 1936 Allan Cup final. Ironstone's nephew Dr. Norman Ironstone is along-time Ottawa resident.
Ottawa's Jewish Community welcomes Chychrun and his family to the nation's capital. We wish him and our Sens success this season, as they battle for that elusive wildcard playoff spot and a long run in the playoffs. We hope he will be a fixture on our defence for many years to come.