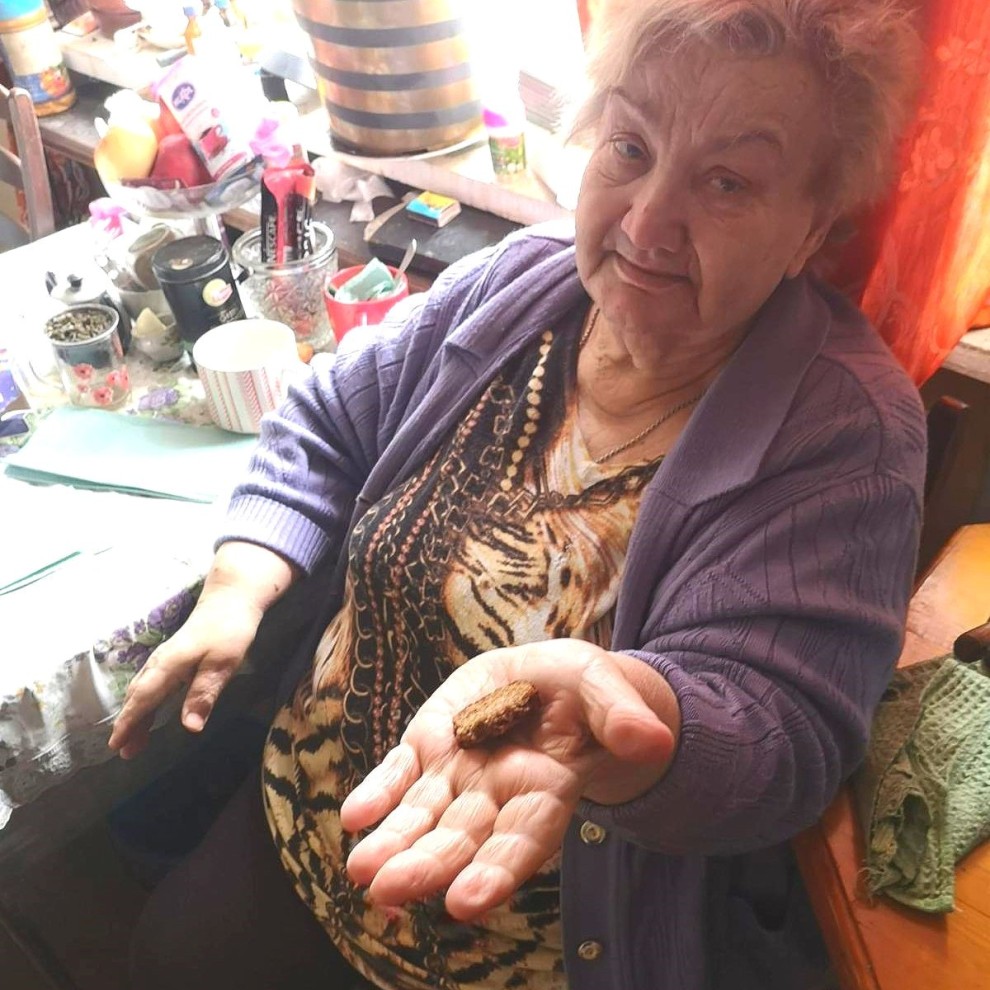 Photo: A Ukraine woman showed Rabbi Mendelsohn a piece of bread she had saved. It was the last morsel of food she and her son had in their home for three days and yet each refused to eat it begging the other one to have it instead. She saved it as a trophy of love and devotion. 
It has been just over a year since the start of the war in Ukraine. Helping shed insight into the lives of the Jewish community in Ukraine, Rabbi Chaim Mendelsohn, the director of Chabad of Centrepointe, shares his experience of travelling to Kyiv for Chanukah.

"Hey Rabbi", asked my friend, Rick Ekstein, "What do you think about the two of us traveling to Kyiv for Chanukah?"
My entire life I had been waiting for this moment.

You see, growing up in Chabad, we were taught by the Lubavitcher Rebbe, of blessed memory, that a life dedicated to the well-being of others is a life worth living. Our calling is to selflessly be a beacon of light and support for individuals and communities who are searching spiritually or struggling materially.

That is why you meet Chabadniks in the strangest of places. Be it in Bariloche, Argentina, Pokhara, Nepal, Anchorage, Alaska, or in Hanoi, Vietnam. In fact, today there are more than 4,000 Chabad centres across the globe.

As a young student and rabbi in training, I had the opportunity to visit far-flung communities in Mumbai, India, Sydney, Australia, Lutzk, Ukraine, and more locally San Juan, Puerto Rico. Each destination brought its own set of challenges, but we persevered recognizing that I was privileged to be a part of a global network dedicated to sharing the love and warmth of Judaism.
So, when Canadian entrepreneur Rick Ekstein, (shown at right with Rabbi Mendelsohn), famous for his "Together We Stand" initiative supporting Canadian military families, asked if I was prepared to join him on a trip to war-torn Ukraine to bring some Chanukah joy to their Jewish residents, I responded with an emphatic "are you out of your mind?" followed by an eager "Of course, let's do it."

At the onset of the war, Jewish communities across North America and beyond enthusiastically sent millions of dollars in support of Ukrainian Jews trying to escape their homeland as well as to those agencies providing for the Jews (mostly elderly) who could not get out. There was an outpouring of love reminding our Ukrainian brothers and sisters that they were not forgotten, they were not alone. Every Jew felt their pain, their suffering, and their vulnerability. But as the war dragged on and weeks turned to months with no end in sight, a sense of fatigue settled in. The war no longer occupies the front pages of our newspapers and it is no longer water cooler conversation.

This is precisely why Rick was so interested in going there on Chanukah. The festival of Chanukah is synonymous with family, community, and light. Chanukah is a time when we celebrate together. Children and parents sit together in the glow of the menorah, exchanging gifts and playing dreidel. Communities gather together for public menorah lightings while snacking on delicious oily sufganiyot. How tragic, that in Ukraine, there are thousands of Jews alone, separated from families without heat, running water and basic necessities let alone holiday treats.

This was the motivation behind the trip; to bring Chanukah joy to the most vulnerable and lonely of our brethren, victims of a ruthless war.

Prior to our trip to Ukraine, we spent two jam-packed days in Berlin, Germany. Thousands of Ukrainian refugees relocated to Germany. Three days into the war, Rabbi and Mrs. Yehuda Teichtel directors of Chabad in Berlin received an unsettling phone call from the Mishpacha orphanage in Odesa, Ukraine. The lives of over 100 orphans were literally at risk. They could get them out of Ukraine and into Berlin, but they needed someone to take responsibility for their needs. Thinking this would be a short-term relocation, the rabbi and his wife immediately agreed.

Some 10 months later, with Chanukah approaching and they were still there. Not only were they there, but they had grown to more than 300 refugees including young mothers, the elderly, and even some infants.
On Sunday, the first night of Chanukah after Rick, Eleanor Millar, Rick's indefatigable chief of staff and I proudly watched a giant 20-foot menorah lit at Brandenburg Gate in the presence of federal ministers and Berlin's mayor, we went off to celebrate the holiday with the Ukrainian refugees.

Rick and his wife Lilian had sponsored a Chanukah dinner and concert with well-known Israeli singer Yishai Lapidot. This experience will forever be etched in my memory. Watching the children dance with big smiles on their faces singing songs with the words "anachnu maaminim benay maaminim" (we are believers, the children of believers) or "ani maamin beemuna sheleima" (I believe with complete faith) I could only think of three words "am yisrael chai". Imagine these innocent children who have experienced such hardships expressing their ultimate faith in G-d and their hopes for a better tomorrow. 
This would be the first of many times over my four-day trip that I would shed some tears. Tears of sadness mixed with tears of pride.
After Rick passed out Chanukah gifts to the hundreds of children, many of the orphanage staff came to express their gratitude telling us that it was the first time these children really smiled and celebrated since arriving. I am convinced that their smiles were not merely a result of the delicious food, entertaining concert, and beautiful gifts instead it was a result of the love and care they felt from a small Canadian delegation reminding them that they were not forgotten.

On the second day of Chanukah, we boarded a flight taking us to Rzesow, Poland, a small city only an hour drive from the Ukrainian border.

It would be misleading if I said I wasn't feeling extremely nervous and scared as we reached the border. Walking across the border, it was obvious that there were many more people heading in the opposite direction. Few people were heading into Ukraine.

Surprisingly, crossing the border and the subsequent seven-hour drive to Kyiv was uneventful. 

In fact, Kyiv did not feel like a war zone at all. People were out and about. Malls and cafes were open and packed with people. Pedestrians and vehicles filled the roads.

On the third day of Chanukah, we left our hotel in Kyiv to visit some of the hardest-hit towns only 30 Kilometers from Ukraine's capital; towns like Bucha and Irpin. We left early in the morning recognizing that this would be our one and only day to deliver food packages to those Jews hardest hit. 

Contrasting the destruction with what we witnessed in Kyiv was overwhelming. The streets were quiet. Destruction was everywhere. Once proud homes and apartment buildings were now reduced to rubble. We saw splintering cracks on the roads and sidewalks showing signs of where rockets made a direct hit.

Following a cargo truck full to the brim with life-saving care packages, we were guided by a true hero; Rabbi Rafael Rutman, Executive Vice Chairman of the Federation of Jewish Communities in Ukraine. At the start of the war, Rabbi Rutman organized dozens of busses to help Jews escape the carnage, among those escaping were his wife and seven children. He waved goodbye to the busses but didn't get on one himself. Despite the risk of the unknown, he resolved to never leave the Jews of Ukraine to fend for themselves. 
Every family would be receiving five boxes stuffed with canned foods, water, basic hygiene products, and some Chanukah treats. Rick and Lilian graciously donated these boxes. The Federation of Jewish Communities in Ukraine has over 100,000 Jews in desperate need of monthly care packages. At the beginning of the war, they had the funding to make these life-saving deliveries. Donor fatigue has made it impossible to continue providing for all of those in need. That is why our Chanukah participation in these critical efforts was so necessary and impactful.
The next few hours spent delivering care packages profoundly impacted me. These are haunting memories I will never forget. Having an elderly woman who had half of her home destroyed, explaining to us how without running water she survived by sucking on snow. Or the woman who showed us a piece of bread she had saved. It was the last morsel of food she and her son had in their home for three days and yet each refused to eat it begging the other one to have it instead. She saved it as a trophy of love and devotion. Or the elderly woman who begged us to please share some of our life-saving products with her non-Jewish neighbours, which of course we did. Or the woman who clasped the menorah we delivered telling us that it was more important to her than the food and water.

Carrying the heavy packages felt light when seeing the tears of joy and relief on the faces of the recipients. The warm hugs and expressions of gratitude from these innocent victims made me realize once again that their appreciation came from the fact that there were Jews in the free and prosperous world that cared about their wellbeing. They certainly needed the food and drink but it was the encompassing embrace of love and concern by strangers that truly warmed their hearts.

As we were delivering the packages to a group of non-Jews, there was one elderly woman who stared at me. After a few moments, I watched as she walked up to a kippa-wearing local who was helping with the unloading. She pointed at me and asked him a question to which he responded with a hearty chuckle. I was now feeling self-conscious and asked him what was so humorous. He smiled and explained that she had been under the impression that I was the Lubavitcher Rebbe. It warmed my heart because I am not sure if there was ever a time in my life when I felt more like my mentor and my inspiration the Lubavitcher Rebbe, of blessed memory.
The following morning as I stood on the sacred ground of Babi Yar, (shown at right), the location where thousands of Jews had their blood spilled by the evil Nazis, the words "never again" took on a whole new meaning. I was proud to have at least done something of action to stand by the sentiment of never again. I challenge you dear readers to do what you can to help make "never again" become a reality.
- Rabbi Chaim Mendelsohn is the Director of Chabad of Centrepointe and the Director of A Ripple Effect.