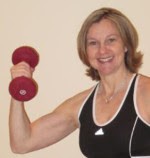 By Gloria Schwartz
On a recent trip with my husband, I noticed some lifestyle differences between Israelis and Canadians in terms of diet and exercise.
We spent the first few days in Be'er Sheva, the largest city in the Negev, where one of our sons attends medical school. I've often thought that if I lived in a country with a hot climate, I'd be more fit because I'd be doing more outdoor activities. However, after spending a few days in this desert climate where it was sunny and a sweltering 38 degrees Celsius every day, I realized there can be too much of a good thing. Walking around for more than a few minutes proved challenging as I'm unaccustomed to such extreme heat. I drank so much water. Though he's already been living there for several months, our son still finds the heat challenging. Not only that, but he and I are very fair-skinned, so plenty of sunscreen, hats and long-sleeves were in order.
The evenings were not quite as hot and very pleasant, allowing for comfortable walks and dining al fresco. If I had to choose between living in the extreme heat of the Negev or the extreme cold of our Canadian winters, it would be a difficult choice for me. I enjoy outdoor running and I've learned to tolerate it in our brutal winters but I'm not sure I could adapt to running in such heat without fainting.
We spent the next few days in Tel Aviv. I was impressed that the adult-oriented outdoor gym on the boardwalk has been considerably upgraded since my last visit six years ago. There are various machines for strength building such as chest presses and triceps dips that use your body weight as resistance. There are also cardio machines and apparatuses for chin-ups and gymnastics. These free gyms are located in various places in Israel.
It would be great if we had similar outdoor gyms in Ottawa. Our climate means that those types of structures would be underutilized during the winter, but we have play structures for kids, so why not for adults? If we want to change our culture from one that promotes being sedentary to active, we should consider investing in more outdoor recreational opportunities for young and old of all abilities and economic levels. If our parks had adult exercise equipment alongside the kids' play structures, perhaps more parents would do a bit of exercise while their children played, rather than sit on benches staring at their cellphones.
I noticed lots of Israeli cyclists have switched to electric bikes and electric scooters which are good for the environment but require less physical effort than traditional ones. The glorious weather is conducive to a variety of other outdoor activities including jogging and swimming. Matkot is a popular beach paddle ball game. I found the constant click-clack of balls hitting paddles a bit annoying, but it was fun watching the talented players.
The rate of obesity in Israel is about half that of Canada; 14 versus 26 per cent respectively. The Mediterranean diet with plenty of fresh produce, fish and olive oil is a contributing factor to Israelis being thinner than us.
The beaches at Tel Aviv are picturesque. However, as I dug my toes into the silky sand, I noticed a cigarette butt. Then another. Nearly 20 per cent of adult Israelis smoke, compared to about 15 per cent of Canadians. A bit more toe action uncovered a plastic straw, a plastic bottle top, and then a metal bottle cap. I got down on my hands and knees and spent the next few minutes sifting through the sand with my fingers. I found hundreds of butts, several more straws and bottle caps, a plastic hair clip and food wrappers. I filled up a bag and threw it in the trash bin. There are numerous garbage bins on the beach, yet there's trash everywhere just below the surface.
Israel has a good recycling and waste management program. Much of the plastic garbage is from major polluters Egypt, Turkey and Italy, brought in by sea currents and wind. The beach at Tel Aviv has the third most plastic pollution among 22 countries in the Mediterranean. https://tinyurl.com/y25eveyz
Each country has its benefits and challenges pertaining to all aspects of life. By travelling, observing and sharing, we can learn how to improve as individuals and as societies.