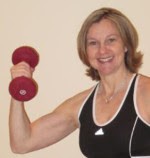 By Gloria Schwartz
I did it! I returned to the gym for the first time in four-and-a-half months, and I felt so happy I almost cried. The sense of normalcy was overwhelming. Many Ottawa gyms reopened in mid-July. The big box gym (Movati) where I work out only reopened at the end of July. Having been extremely cautious thus far throughout the pandemic, I wasn't sure if going to the gym was a smart idea.
A number of my friends who are members of the same gym informed me they won't be going to the gym during the pandemic, or at least not until they see how it plays out in terms of COVID-19 cases in the coming months. I weighed the pros and cons. I will eat at a restaurant patio if it's not crowded. I won't eat inside a restaurant as it doesn't feel safe nor important enough to take a risk. Everything, after all, is a risk in the age of COVID-19. But I missed the gym experience. I used to work out regularly and hard. Over the past months, I could see and feel the deterioration of my body. Running and walking and occasional light workouts at home were not giving me the same benefits as intense gym workouts. I wasn't feeling highly motivated since the pandemic started. Though I haven't gained weight, my muscles feel weaker and my body looks flabbier. I'm sure I've lost some muscle mass and gained body fat. A solid workout makes me feel good physically and mentally.
The new procedure for my gym is that you sign up online for a timeslot. When I went online to sign up, I could see how many spots were available per hour. Even before the pandemic, the women's-only exercise room, which is huge, is usually almost empty. Since the reopening, there's a maximum of 40 people in that room at any given time, but according to the online information, there are never more than six women in the room. I chose a time when there were still 36 openings, meaning there'd only be four women in the whole area. That's a risk I thought was very small. I also decided that when I arrived for my workout, if it didn't look safe to me, I'd leave. For example, if machines weren't being wiped down by members after use, or if social distancing were being ignored, that wouldn't meet my safety criteria.
What surprised me was that when I arrived at the gym, there were no staff to ask questions about travel history or if I had any symptoms. Then again, they don't ask such questions when I've eaten at restaurant patios. I imagine by now most people know not to go somewhere if they've been out of the country or are feeling ill. All I had to do was wear a mask on my way in and out, sanitize my hands at the door and tap my cellphone to prove I'm signed up for a timeslot and so the gym has a record of when I arrived. I chose not to use the locker room and went straight to the women's workout room. Instead of bringing a purse or gym bag, I wore a belt that contained my hand sanitizer, a mask, my phone and car key. I chose not to use the showers either. I just went in, worked out for 45 minutes, and left.
I was able to walk around and use the equipment and was never near anyone. I'd estimate that the other women were at least 20 or more feet away from me at all times. But as I stated, this workout room is gigantic. Not all gyms are so spacious.
I could see through the glass wall that there was a class in progress. I recognized the instructor. There were only four women attending that class. Before the pandemic, dozens could attend; now classes are limited to 10 participants. I'm not sure I'm ready yet to go to a class as the room is smaller and there's lots of heavy breathing going on in the high-intensity classes that I like to attend. I sure do miss the classes.
My gym has set up several sanitizing stations. They've put out extra bottles of cleansing spray, paper towels and premoistened towelettes near the machines, not just around the perimeter of the room. I made sure to do a thorough wipe-down of all the surfaces I touched on each machine, even the pins used to adjust the weight. I also made sure not to touch my face and I sprayed my hands with my own hand sanitizer every few minutes.
Though I spend a lot of the summer away at my cottage, I come home to Ottawa every week or two and I've been back to the gym a few times already. I know that I get a much better workout than anything I've done at home in the past four months because the day after my gym workouts, my muscles are sore. I feel more motivated at the gym with a few other people working out around me compared to working out in isolation in my home studio. Also, the machines at the gym allow me to work my muscles with much more resistance than when I work out with dumbbells or my own body weight.
If you're considering going to a gym, you need to consider your and your loved ones' health status and the standards and procedures your gym has put in place for COVID-19. For me, going to the gym felt extremely low risk; in fact, I felt much safer than going to a grocery store. As for my work as a personal trainer, I plan on delivering in-person training again at the Soloway Jewish Community Centre after the Jewish High Holidays and I'll continue to offer Zoom training for those who don't feel comfortable going into a gym. Whatever you decide, find what works for you so you stay safe, fit and active. Send me your thoughts about how you're staying fit during the pandemic (email info@personalbestthebook.com) and I may include them in an upcoming article.
Photo: Focus on Fitness columnist Gloria Schwartz working out at her gym.