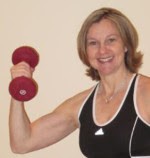 By Gloria Schwartz
The High Holidays may look and feel different this year given the pandemic, but that does not mean observances and celebrations must cease entirely. Jews around the world are using their creativity and perseverance to find new and still meaningful ways to connect and reflect, whether via technology, in small bubbles, in outdoor settings using social distancing and masks, or even alone. As we prepare to mark the New Year, let's also prepare for new beginnings with respect to the physical and mental health and well-being of ourselves, our loved ones and our community.
I often think about some of the things I may have taken for granted before the pandemic, things that I have not done in six months, but which I hope to be able to do this time next year. I try to be forward-looking and optimistic. For example, like many of you, I haven't had any guests inside my home in six months. Next year if we're vaccinated, you're all invited! Why not dream big?
In the meantime, as we make our meal preparations for the holidays, let's also make some concrete plans for health and wellness. I have not been in the Soloway Jewish Community Centre (SJCC) since March. I plan on returning there to train clients after the High Holidays. It's a decision I have not taken lightly.
American television personality and fitness trainer Jillian Michaels recently went public with how she caught COVID-19 at a gym. This is not to say that gyms are inherently risky; some behaviours are riskier than others. Michaels admitted she let her guard down while working out with a friend; neither of them wore a mask. She caught COVID-19 from her asymptomatic friend and for six days walked around unknowingly potentially spreading the virus to others before her own symptoms appeared.
Prior to reading this news story, I had already decided to mitigate my risk of catching COVID-19 with respect to training clients in person. I spoke with my clients about returning to the SJCC fitness centre. I told them that the SJCC policy is that personal trainers must wear a mask while training members, but that members are not required to wear a mask while exercising with their trainer (or on their own). I believe that is the policy at most gyms and fitness centres. I informed my clients that I will only train them if they wear a mask. I need and deserve protection from the virus too, especially since I have a chronic disease that puts me at increased risk. My clients happily obliged because they appreciate the importance of protecting one another.
We should not neglect our physical fitness during the pandemic. As we get into cooler weather and inevitably, the freezing Ottawa winter weather, prepare a plan for how you're going to stay active. Will you do outdoor activities even in inclement weather? Will you go to a gym or community centre to exercise? Perhaps indoor mall walking would be suitable for you. Maybe you can exercise on your own in your home. You and your doctor are the best judge of your personal health and risk factors.
Working out at the big-box gym that I belong to has been a boost for my mental health as well as my physical fitness. I know many of my friends do not feel safe returning to their gym or community centre just yet. Everyone has to do what is right for them. I wish everyone a New Year filled with good health and good times. May we all be inscribed in the Book of Life. Also, let's use our free will to make choices that keep ourselves and our families as fit and healthy as possible.