Photo: From left, Avi Bulka, (Rabbi Bulka's grandson), Shmuel Bulka (his son), and Rabbi Bulka enjoy a Senators hockey game in November 2019.
A beloved husband, father, grandfather, friend, colleague, mentor and "Canada's Rabbi," Rabbi Dr. Reuven P. Bulka Z"L leaves behind a legacy of kindness and impact beyond measure. 
Born on D-Day, June 4, 1944, in London, England, Rabbi Bulka moved to the United States in 1946. He received his rabbinic ordination in 1965 and moved to Ottawa in 1967 where he led Congregation Machzikei Hadas for more than 50 years, first as Rabbi and, since  2015, as Rabbi Emeritus. He became a member of the Order of Canada in 2013 and received the Key to the City of Ottawa in 2010.
Rabbi Bulka married Naomi Jakobovits, of blessed memory, in 1967 and together they had six children: Yocheved Ruth, Shmuel Rafael, Rena Devorah, Efrayim Yechezkel Z"L, Eliezer Menachem and Binyomin Dovid.
Photo: Family photo taken on the occasion of Shmuel Bulka's Bar Mitzvah.
In 2001, Naomi died of cancer. In 2002, Rabbi Bulka married Leah Kalish. He is also survived by his sister Rebecca, brother Yitzchok, and many grandchildren and great-grandchildren. 
While he will be forever missed, his kindness and optimism will be remembered, not only in Ottawa but across Canada. 
"Over the past few weeks, I have read and heard from so many people who have remarked that my father was always there for the highs and lows of their lives. It was the same thing for his family," said Shmuel Bulka. 
"He did his best to attend every family event, even if it meant flying overseas and only staying for a few hours. He made it a point to see most of his grandchildren before they left the hospital following their birth. Most importantly, he had his own unique relationship with every one of his children and grandchildren."
Sharing his father with the world as Canada's Rabbi was no small feat, but Shmuel never felt deprived of a typical father-son experience. 
"I think we as my father's kids are often asked about my father as a father, with the assumption being that his extensive community involvement would have deprived us of the typical things that kids get to experience with their fathers," said Shmuel. 
Photo: Rabbi Bulka with his son Binyomin and Daniel Kimmel on the occasion of opening a fund with the Ottawa Jewish Community Foundation.
"From a personal perspective, I can say that this was most definitely not the case. Yes, we had some vacations cut short because my father ran back to Ottawa for a funeral, but at least on a personal level, I benefitted from my father's willingness to go anywhere and everywhere just to spend time with his kids. Most of my father-son time ... was very high quality, full of meaningful and memorable moments."
Tributes flooded in after his death from politicians and CEOs who had worked with him on initiatives like Kindness Week, or on organ and blood donation promotions. 
"As 'Canada's Rabbi,' Rabbi Bulka inspired Jewish Canadians and people across the country to live with optimism, humility, and devotion to kindness," said Prime Minister Justin Trudeau after his death. "And thanks to his tireless efforts, Canada was the first country to create a National Kindness Week. May his memory be a blessing."
"Rabbi Bulka was that all-too-rare leader whose greatest strength lay not in taking a side, but in bringing sides together; not in exploiting our differences, but in appealing to our common aspirations and our shared values," said former Ontario premier Dalton McGuinty. "And he did all his good work always as a man of principle and conviction, inspired by his own deep and unshakeable faith."
From his influence at the national level, Rabbi Bulka's impact was tremendous in Ottawa's Jewish and the broader community. Stories and memories of Rabbi Bulka span decades and generations when it came to helping others in the community. 
Photos below: Rabbi Bulka, a left-handed pitcher, enjoyed playing baseball with the Ottawa Jewish Men's Softball league. The second photo shows him at bat.
"The first time I ever interacted with him I was 11 years old," said Rabbi Idan Scher, of Congregation Machzikei Hadas, describing a chance meeting at a Cubs baseball game in Chicago — Rabbi Bulka's love for sports, especially baseball, was legendary. 
"Fast forward, going through the interview process with the synagogue, about seven years ago. … Part of the interview process was meeting with Rabbi Bulka," Rabbi Scher remembered. A series of unfortunate weather events meant Rabbi Scher's flight was delayed, so he met with Rabbi Bulka at his home, late in the evening. 
"I knock on the door and he answers … he wasn't wearing a tie or jacket. He had two bottles of orange Gatorade in his hands. He greeted me so warmly and brought me into his living room and sat down on the couch, put his feet up and drank his Gatorade," said Rabbi Scher. "He just immediately made me feel so, so comfortable. We had such a wonderful conversation. It was love at first sight."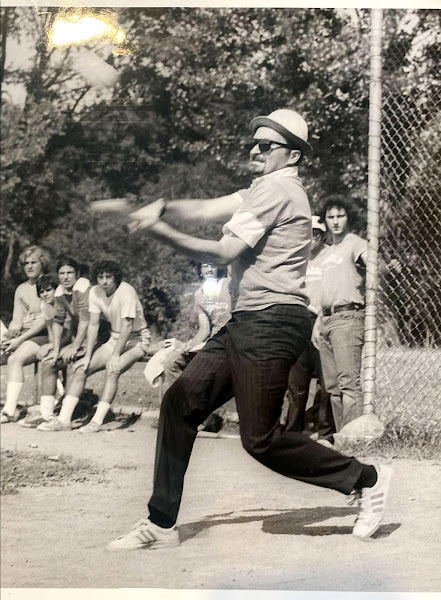 Rabbi Bulka was everyone's biggest cheerleader — including the spouses and children of those he worked with. 
"Right away, we hardly knew each other, but he deeply cared about not just me but my family. He became part of our family, like a grandfather to my children," said Rabbi Scher. 
Ronnie Gavsie, former president and CEO of Trillium Gift of Life Network, echoed the 'part of the family' ideology, especially as Rabbi Bulka did the bar mitzvahs for all three of her children. 
"When I would come back to pick them up, I would find each one separately playing 21 at the basketball net with Rabbi Bulka. He'd take them through their lesson and then take them out and play basketball," said Gavsie. "One of my favourite pictures I have is one with his arms thrown over my three sons. They're all grown now but remember him so well."
Though Gavsie went to Congregation Machzikei Hadas, she eventually moved to Toronto. Twelve years later, she was surprised to find herself working with Bulka — her as CEO for Trillium and he as Chair of the Board — a board he sat on from 2004 until 2011. 
"Because of what he did for the culture, Trillium is now the top donation program in Canada, and among the top globally. The relationship between the board chair and the CEO is the most important and if it's in synchrony, that moulds the culture of the board and of the entire operation. And we were in perfect sync," said Gavsie. The two worked in harmony for 10 years at Trillium. 
"He was instrumental in transforming a fragmented system in the province," said Gavsie. "Just being by his side was an experience that will live with me forever, one of the greatest honours ever. I often say "How did I get so lucky?" When he got ill, I was heartbroken. When he died, I was heartbroken. And now I feel like he's right there. He lives on in us. He was bigger than life."
Rabbi Bulka's work with Trillium and with organ donation transformed not only those related organizations, but also was eye-opening to many members of the Jewish community who may have been uncertain about donation. He also served as a board member for Canadian Blood Services and donated blood more than 345 times. 
Photo: Rabbi Bulka supporting Rabbi Idan Scher as he donates blood.
On organ donation, Rabbi Bulka shared that: "Our challenge, as religious leaders, is not merely to affirm that organ donation is ok, or nice. It is to impress upon our communities that organ donation is a supreme obligation, a fundamental responsibility. In the Jewish tradition, saving lives is the highest fulfilment. Organ donation gives us this great opportunity."
Rabbi Bulka was a champion of interfaith relationships as well — and knew who the best man for the job was when he wanted a champion for Kindness Week. 
"I knew him by reputation, but wasn't sure why he was asking this rookie young member of provincial parliament — a Muslim — why was he coming to me?" remembered Yasir Naqvi, Former Attorney General of Ontario and former MPP for Ottawa. 
"I asked him before and he said he wanted to build communities, so he reached out to me, this young guy, who he thought was the right guy to champion this project."
Naqvi most remembers Rabbi Bulka's eternal optimism. 
"People would ask "Do we need to legislate kindness?" but Rabbi Bulka was able to make a tangible impact on society and community. People thought it was gimmicky, but he made it a real thing. Working with him showed me the power of optimism, the power of being persistent," he said. 
Photo: Yasir Naqvi, Rabbi Bulka and Mayor Jim Watson
"After we finally got the initiative passed, he invited me to his synagogue on a high holiday and had me sit right in the front. He gave his sermon, and most of it was about kindness and the initiative, but he kept mentioning me. He used me as an example of how communities are built and how kindness could be spread. It was one of the highlights of my life, to be able to be there in that place with him."
A particularly memorable event for Naqvi was an interfaith gathering after hateful graffiti at Congregation Machzikei Hadas.
"We did a rally, and he invited all faith leaders across the community to come and stand at the front. It was so powerful to see an Imam and a Sikh and a Hindu and Christian faith leader, all together. It was Rabbi Bulka who did that," said Naqvi. "He didn't just preach inclusion, he lived inclusion."
Rabbi Bulka formed 'Kind Canada,' a committee that was the precursor to Kindness Week.
"There was no way to say no to Rabbi Bulka," said committee member Patrick McGarry. "It was a real pleasure to serve alongside him." 
A piece of candy is the highlight of the first time McGarry met Rabbi Bulka. 
"It was on the steps of the synagogue, before going into a service," said McGarry. "We didn't have a lot of time to talk then, but he stopped and gave me a candy and asked how I was. It was intimidating at the time, knowing who he was, but he made me feel so comfortable." 
McGarry, CEO of Hulse, Playfair & McGarry Funeral & Cremation Services, also worked on thousands of funerals with Rabbi Bulka. 
"I know he considered funerals the hardest part of his job — but the way that he could bring a message of hope to those who were grieving was phenomenal to watch. He was always prepared (but never wearing a winter coat)," said McGarry. "He was always educating while consoling … sometimes people forget the importance of the rituals. He had a presence that was extremely comforting to people. It didn't matter who the person was — A prominent community member or a private individual, the care and attention were the same." 
Even journalists got to know him closely, like Russell Mills, former publisher of the Ottawa Citizen.
"His favourite word was 'kindness,' a quality that he exemplified. He was never too busy to listen and never too busy to help. Kindness, when combined with Rabbi Bulka's energy, was an unstoppable force in getting things done. His example, and his legacy of good works, will live on."
A park adjacent to his synagogue was renamed in the rabbi's honour in 2019 by the City of Ottawa and it is now known as Rabbi Bulka Kindness Park. 
Photo: (From left) Ron Prehogan, co-chair of the Celebration of Rabbi Bulka's 50 years of Leadership; City Councillor Jean Cloutier (Alta Vista); Mayor Jim Watson; Rabbi Reuven P. Bulka; and Bram Bregman, co-chair of the Celebration of Rabbi Bulka's 50 years of Leadership, at the ceremony dedicating Rabbi Bulka Kindness Park, October 27, 2019, at Congregation Machzikei Hadas.
His incredible kindness and care for others were evident in his amazing effort to be present for everyone. Rabbi Bulka was well known for driving somewhere in the middle of the night to sit at the bedside of someone ill, only to make it to his next stop on time to conduct a wedding or make a Trillium board meeting — he didn't miss a single meeting in all his time on the board. 
"Everything was possible for Rabbi Bulka. He was also an energizer bunny - the man never stopped," said Naqvi. "I had to keep up with him!"
Community members also marvelled at how many hours Rabbi Bulka seemed to have in a day. 
"I would call him a magician … where did he get the time to do it all? He had more than 24 hours in a day," said close family friend Harry Prizant. "People would call him for advice at three in the morning and he'd be up, ready to help. He used every minute of the day for doing good." 
Photo: Rabbi Bulka hugs Shmuel Prizant after his Bar Mitzvah in 2010, as father Harry Prizant looks on.
Prizant first met Rabbi Bulka after moving to Ottawa. Hoping to become more observant in his faith, Prizant took a class with the rabbi — who began the class by putting his feet up on the table, his hands behind his head and said 'Alright, let's talk.'
"That's when I fell in love with him," said Prizant. "He was my mentor ever since … just so unassuming, brilliant and caring."
Even birthday calls were a priority for Rabbi Bulka, a man who "always put himself second," said Prizant. "He always put others first. He made me feel special, but he made everyone feel special."
And throughout it all, somehow Rabbi Bulka was never late, said McGarry. 
"Everywhere that he was asked to be, everywhere that he felt he could be to help, he was there," he said. "He was never late, but he was always busy. I don't know how he did it — long before cellphones were around to help us keep track of our schedules."
For his Remembrance Day sermons, he was awarded the Canadian Forces Medallion for Distinguished Service.
"A proud Legionnaire, each year, he plays an important role in the National Remembrance Day ceremony where he delivers a rousing and inspirational Benediction," said the Royal Canadian Legion when Rabbi Bulka's diagnosis was announced. 
Photo: Rabbi Bulka joins Jewish war veterans outside of Hillel Lodge. (Photo by Elly Bollegraaf, courtesy of the Ottawa Jewish Archives.)
In 2019, Rabbi Bulka told the televised audience "Let us continue to make Canada worthy of their dedication and sacrifice, a country in which respect, harmony, inclusion, responsibility and kindness fill the air.
"Let us dazzle with a dynamic devotion to our destiny as a country determined in its dedication to the dignified diversity of its people as we delight in the delivery of deferential decency with discipline and diligence to assure we can all live the Canadian dream."
Rabbi Bulka also chaired the Courage Campaign for the Ottawa Regional Cancer Foundation and actively supported the United Way. 
"At a time when we have experienced too many unkindnesses, we lose one of our kindest souls — when we may have needed him most," said United Way East Ontario CEO Michael Allen. "Rabbi Bulka – I will miss you, my friend and my mentor. And we will carry on in your name."
In addition, Rabbi Bulka served on the board of the Ottawa Talmud Torah, on the Council of Adult Education of Ottawa, as a committee member for Voluntary Probation Services for Ottawa, and as a member of the Executive League for Human Rights. He was a member of the Kidney Foundation of Canada board of directors, the Children's Hospital of Eastern Ontario board and the Ottawa Regional Cancer Foundation's board. His work as a fundraiser lent a "gentle presence" to the work. 
"For decades, Rabbi Reuven Bulka's gentle presence has been at the heart of our work. Having lost his first wife Naomi to cancer in May 2001, he personally understood how cancer can profoundly affect entire families and communities, and always advocated for improved cancer treatments and person-centred care," said the Ottawa Regional Cancer Foundation after his death. 
"Rabbi Bulka contributed to some of the Ottawa Regional Cancer Foundation's most important memories and milestones. [He] never missed an opportunity to contribute with a smile and kind words. Rabbi Bulka was an exceptional collaborator who excelled at bringing people together. Across Eastern Ontario, his influence and collaborative spirit truly transformed local cancer care."
Beyond his committee work, Rabbi Bulka's mentorship and impact on the rabbinic community in Canada and the U.S. will live on in the work of rabbis across North America.  
"Nearly 30 years ago the Jewish community gathered together to observe Chanukah and celebrate the founding of the Tikvah Fund," remembered Rabbi Steven Garten, Rabbi Emeritus of Temple Israel of Ottawa. "Rabbi Bulka and I were asked to light the first candle as the rabbis in attendance. While lighting, Bulka noted that only in Ottawa could an Orthodox and Reform rabbi say the Berachot together and in tune."
It's not the only memory Rabbi Garten had of breaking barriers with Rabbi Bulka. 
Photo: Rabbi Steven Garten and Rabbi Bulka joined a special lip-synch performance to help launch Federation's Annual Campaign Kickoff in 2018. Here they are dancing to L'Chaim - To Life! (Photo by Wellington Imagery)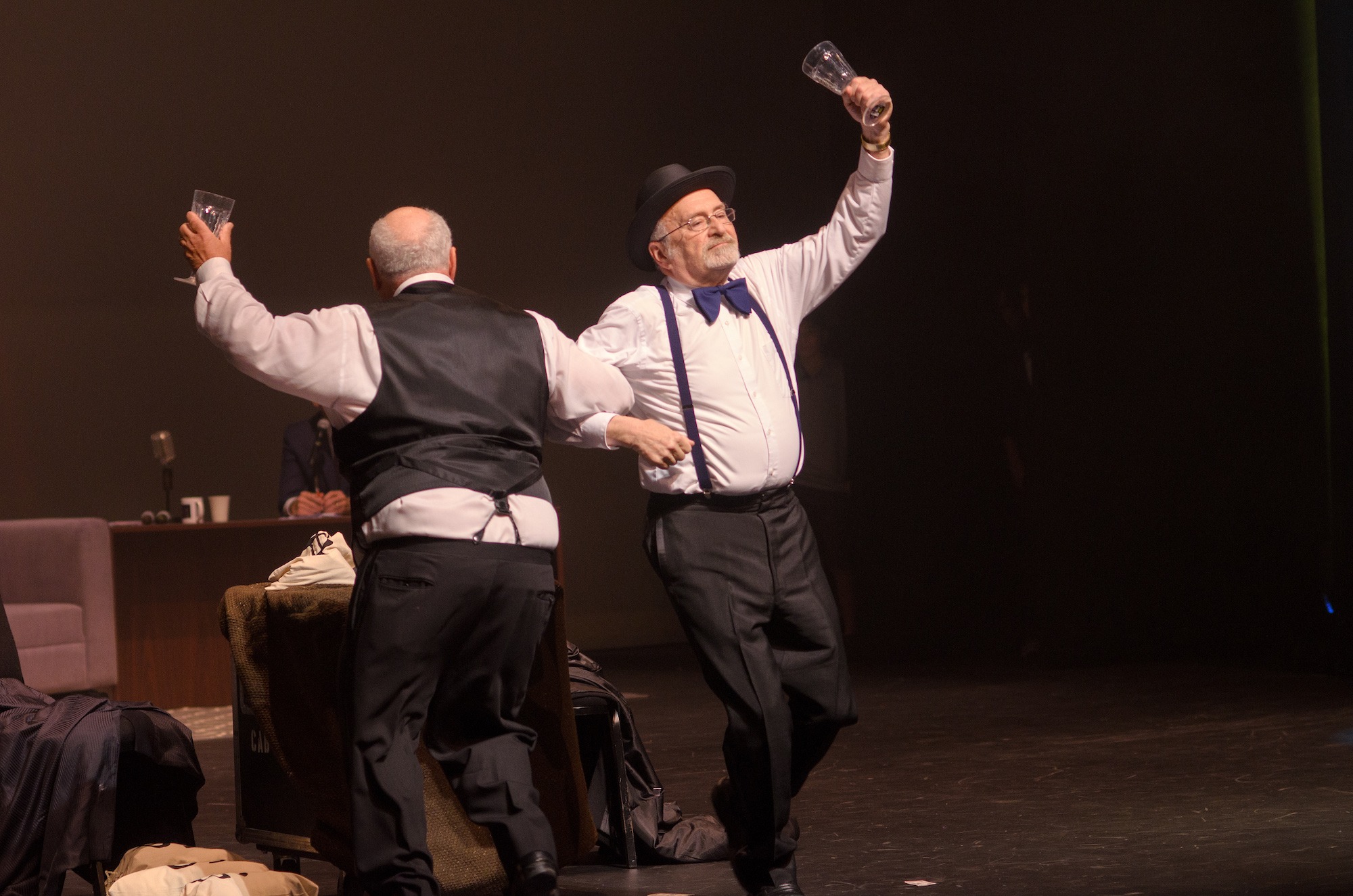 "A few years ago the Federation held [a campaign kick-off event] focused on community. Each agency or synagogue was asked to present a dance and lip-sync to a song. Once again Rabbi Bulka and I were asked to represent the rabbis. Our choreographer suggested many pieces of modern music for us to learn. The rabbi knew none of them but most importantly thought we should dance to Jewish music. We rehearsed a number of times and practiced at home. We laughed our way to a standing ovation," said Garten. "Theology, Halacha, ritual might have separated us, but for the community, there was no division. He believed in the phrase 'we are one'."
He served as co-president of the Canadian Jewish Congress from 2007 to 2009. As a further legacy in the rabbinic community, Bulka authored a lifecycle Madrich that covered all lifecycle event scenarios, from the ritual to the words. 
"Every rabbi who knows what they're doing uses that little compendium to do lifecycle events. So Rabbi Bulka will still be alive at every one of those events," said Rabbi Scher, who feels blessed to have had a rabbi to rabbi emeritus relationship with Rabbi Bulka.
"I was the envy of the rabbi world, getting that kind of mentorship and guidance," he said. "People saw his passion and dedication for the things that meant the world to him and felt very inspired to take part in the work that he was doing. The sign of any great leader is having a succession plan, even if it's not a conscious plan, but so many people have bought into any number of Rabbi Bulka's initiatives. We're going to continue his work and expand on it and that legacy will be perpetuated forever."
And of course, right here at the Jewish Federation of Ottawa, he chaired the Annual Campaign.
"I feel so fortunate to have had the opportunity to work alongside Rabbi Bulka for two years co-chairing the Federation Annual Campaign. Our relationship evolved from him being my beloved rabbi to him becoming a mentor and a dear friend as well," said Karen Palayew. "In some ways, he was very familiar to me, reminding me of my late father. He stood for and lived his life with genuine kindness for all. This came across in our weekly meetings in the SJCC conference rooms, and somehow he even managed to extend his warmth and compassion on Zoom meetings!"
Photo: Dr. Karen Palayew and Rabbi Bulka speak at the 2019 Annual Campaign Kickoff in their roles as co-chairs of the Campaign. (Photo by Wellington Imagery)
Palayew describes Rabbi Bulka's impact as a ripple effect.
"He shared his wisdom, insight and creativity, always accompanied by his tremendous wit as well as a great deal of kibitzing. He believed in keeping our community strong, and even through the pandemic, he approached challenges with hope and optimism for our future."
The Jewish Federation of Ottawa and the Ottawa Jewish Archives, along with community members, have gathered photos of Rabbi Bulka. Please visit the photo gallery here
Should you have photos you would like to share and have preserved for the community, please email Archivist Teigan Goldsmith at tgoldsmith@JewishOttawa.com.
A virtual Worldwide Shloshim Tribute for Rabbi Bulka is being hosted by Congregation Machzikei Hadas this evening at 7 PM. Shloshim marks the end of the traditional 30-day mourning period. Please register here: ATributetoRabbiBulka.ca
For those who live in Ottawa without access to virtual events, Rogers TV - Channel 22 will simultaneously broadcast this special event.
The E-Bulletin will sign off in the words of Rabbi Bulka: Zai gezunt un shtark. Be healthy and strong! May the memory of our beloved rabbi, along with his legacy of kindness, be a blessing, forever.