Jon Braun, director of athletics, leagues and summer camps at the SJCC since 1988 was a beloved figure to the generations of children and adults whose lives he touched over the past 32 years.
By Pamela Rosenberg, Soloway Jewish Community Centre
Jon Braun passed away unexpectedly on March 9, at age 63, leaving generations of Ottawa families at a loss. While adults were in shock, teens shared the news on social media and little kids, who came to the Soloway Jewish Community Centre (SJCC) to take part in "JB's After School Sports" programs, wanted to know why JB wasn't there.
Within seconds of posting the notice of Jon's passing on the SJCC Facebook page, comments started rolling in. Just in the first hour, more than 100 people from all over, commented, shared pictures and were shocked and devastated by the sad news.
The main thing that can be taken away from those hundreds of posts is that Jon was a special person. Words like "mensch" and "legend" were used to describe this man who had a great nickname for everyone he came across, and clearly had a profound impact on the lives of so many over the years.
Jon, son of the late Peter and the late Miriam Braun, and brother and brother-in-law of Martin and Reesa Braun of Toronto, was born February 22, 1957 and grew up in Montreal where he graduated from Wagar High School and Concordia University. After moving to Ottawa, Jon earned a graduate diploma in sport and recreation administration and management at Algonquin College.
In his late teens, began Jon suffering from keratoconus, an eye disease of the cornea that causes a progressive loss of vision. However, successful cornea transplants in 1981 and 1983 allowed Jon to proceed with his education and career.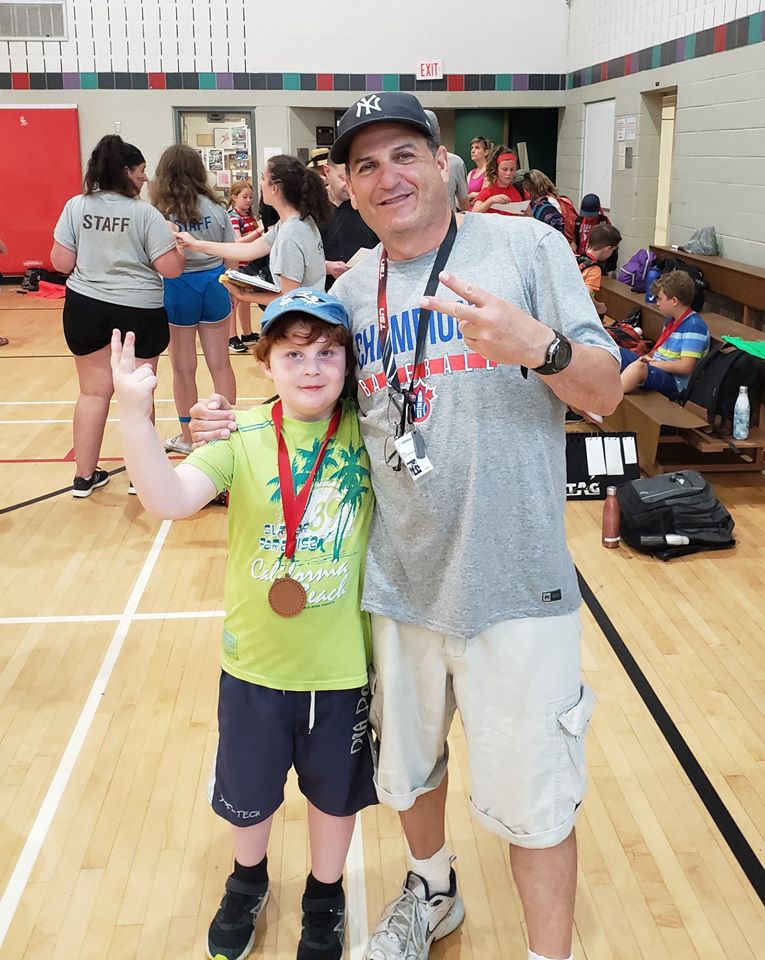 Jon first came to the Chapel Street JCC in 1988 and has been an integral part of the community ever since, teaching thousands of kids about the value of sports. For many, he was their connection to the Jewish community."Jon was all about the kids… making sure they got to experience and get a taste of different activities in the sporting world," said SJCC Youth Programs Manager and Specialty Camps Director Gail Lieff. "This was his priority when he took over the JCC Sports Camp and turned it into the Travelling Sports Camp."
Jon's official title at the SJCC was director of Athletics where he oversaw sports leagues for adults and kids, in addition to being executive director of Summer Camps and director of the Travelling Sports Camp. Although none of those job descriptions include fundraising, ensuring there was enough money in the pot so that every child could experience a summer at JCC Summer Camps was something he took very seriously.
"JB had a deep belief in the inherent goodness of people. In his work with children at summer camp, he cultivated their goodness like a patient gardener," said Maxine Miska, SJCC vice-president of Operations and Programs.
His commitment to youth sports culminated in an annual event called "Breakfast of Champions" which Jon created 17 years ago. While there were plenty of local events that honoured award-winning athletes, Jon wanted to create something that made everyone feel special. The event celebrates middle school, high school and college athletes, as well as those who tried hard in one of Jon's SJCC sports leagues.
And while Jon didn't have any children of his own, it has been said that he had thousands of kids.
His long-time friend Mitch Miller said what Jon did at the SJCC was not a job for him.
"He felt so much pride when a kid who grew up at the SJCC played college hockey or graduated from law school. He would say, 'He used to be in my program.' He would beam with pride over their academic and athletic achievements."
When a group of Jon's "kids," including David Slover, grew up and moved to Toronto several years ago, they formed a baseball team and proudly named themselves "The Jon Brauns."
Jon was quietly put to rest at a small graveside service in Toronto on March 13 with his family and a few close friends in attendance. According to Mitch, who made the trip to say good bye to his buddy, Jon's older brother Martin, gave a heartfelt eulogy where he shared some inside jokes between him and his little brother. He also spoke about Jon's impact on Ottawa's Jewish community and recalled how he gave Jon the nickname "King Braun."
"Jon Braun was my colleague and my friend. His loss is tragic to the SJCC and our entire community. The outpouring of emotion from so many people that Jon touched has been amazing," said SJCC President and COO Barry Sohn. "It has helped me to get through this awful sadness I feel. Jon touched generations in ways that we are just beginning to realize. We will celebrate his life and do our best to honour him in the near future."
And while we will no longer see Jon in his "JB uniform" of grey sweats and Montreal Canadiens or Bruce Springsteen T-shirts wandering around the SJCC doling out nicknames, or sitting in his office catching up with a friend, he will forever be in our hearts and the legacy that he created in the Ottawa community will live on forever.
Donations in Jon's memory may be made to the Jonathan Braun Camp Scholarship fund "to help give all children, regardless of their financial situation, the gift of a summer at JCC Summer Camps" by visiting https://ojcf.ca/jb or calling the Ottawa Jewish Community Foundation at 613-798-4696, ext. 274.
Photo 1: Jon Braun in his SJCC office with a can of JB's beer.
Photo 2: Jon Braun always showed great pride in the accomplishments of those participating in his programs.