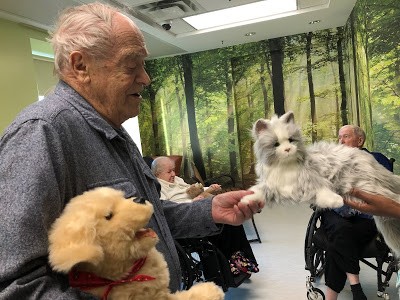 Hillel Lodge has introduced Comfort Therapy, a new program for residents with dementia. Louise Rachlis reports.
A room on the second floor of the Bess and Moe Greenberg Family Hillel Lodge looks like a park, complete with park benches, wall images of trees and recorded sounds of birds chirping.
The room also has a cradle, a laundry basket of baby clothes, life-like baby dolls, and mechanical dogs and cats.
And there are happy expressions on the faces of the residents who are rocking the dolls and petting the animals with heart-warming expressions of wonder, recollection, joy and contentment.
It's all part of a new therapeutic program, Comfort Therapy, made possible by a special $10,000 donation to Hillel Lodge.
Realistic-looking baby dolls help reduce anxiety, loneliness and agitation among residents with Alzheimer's and other kinds of dementia.
Since residents began accessing the dolls in November, their family members have told social worker Carrie Connell that the program has made a big difference to their demeanor.
"It gives them a warm feeling to see the contentment on their relatives' faces," said Connell.
Caring for a doll on a day-to-day basis helps stimulate memories of early parenthood and fosters attachment through the comforts of touching and holding.
"It's a way to engage people," said Connell. "They have memories of all these life experiences. We try to make it relevant to our real world experiences."
When a recreation aide sang from the storybook Old MacDonald had a Farm, across the room, a resident named Donald began to smile.
"Rhythm and rhyme are really important, and you can read Old MacDonald and other children's books to the doll," she said. "It contextualizes those types of activities for them and us."
The room is in the secure unit but any resident can use it.
"It helps those without dementia feel purposeful as well," said Connell.
The room is open all the time. The Lodge follows the Montessori approach of leaving the dolls, books and accessories available for the residents to approach and interact for as long as they want.
Hillel Lodge residents care for dolls in the new Comfort Therapy program to help stimulate memories of early parenthood and foster attachment through the comforts of touching and holding. (Louise Rachlis)
"Nobody has wanted to keep a doll or animal yet," said Connell, "but we expect to be able to fill any attachment."
"Every day I'm hearing how it really is bringing joy to the residents," said Hillel Lodge CEO Ted Cohen. "It's the nurturing it brings out – all of sudden there's that connection and it's just remarkable. That is why we're here – it makes our home special – and we're so grateful for the gift that made it possible."
Hillel Lodge's Comfort Therapy program is thanks to the generosity of Betty-Hope Gittens. At the age of 80, Gittens embarked on "Betty's Walk," an 800-km trek across the Camino de Santiago in Spain. "Betty's Walk" raised over $200,000, and she has donated $10,000 to each of Ottawa's 13 nonprofit long-term care facilities for use in programming, equipment and/or other purposes that would enrich the daily lives of seniors in their respective homes.
Comfort Therapy is one of many different kinds of therapy at Hillel Lodge, said Cohen. "Some residents may respond more to art therapy, others to music, or garden therapy in the spring to help nurture a plant to life. It gives us a selection of different activities to which they can relate."
"This has been a very collaborative project," said Connell. "It has taken a bit longer because of that, but people feel they're part of it."
In January, art therapy students were working with residents to create a polished and safe installation for the main wall, bringing the last decorative elements together. It's based on artist Marc Chagall's stained glass windows, in three different colours on 36 pieces of foam core board, multiples of chai, being created by 36 residents.
And though the room decor isn't even finished yet, the benefits are obvious in the happy smiles of the participants.