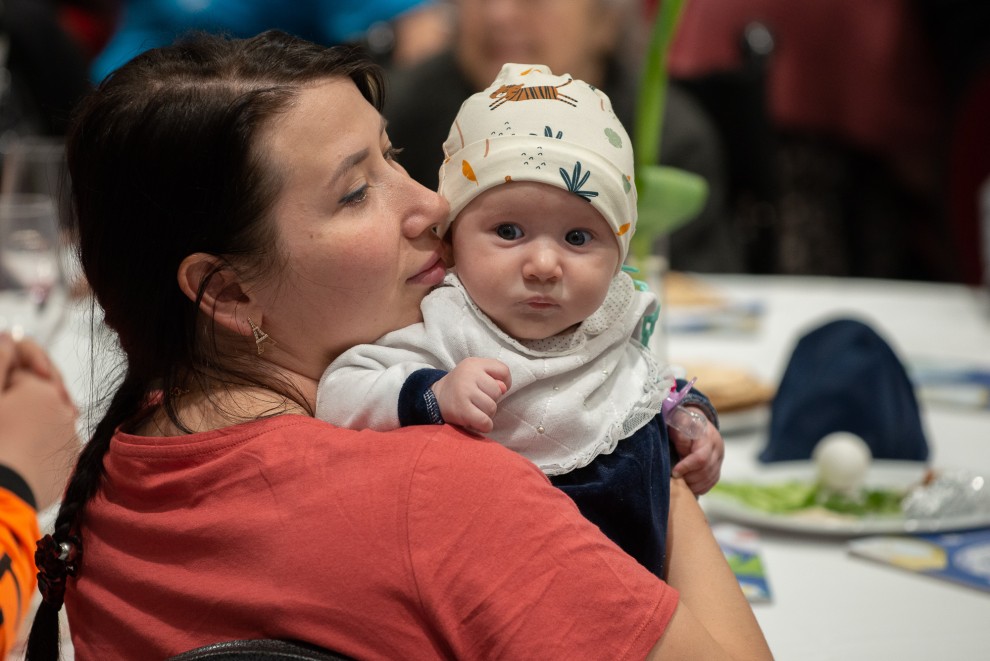 In an incredible display of community unity and compassion close to 200 people expressed the sentiment: "Hineni, here I am" by joining a workshop last week hosted by Jewish Family Services (JFS) and the Jewish Federation of Ottawa to learn how they can help Ukraine refugees.
"The news from Ukraine has been overwhelming and heartbreaking," said Federation Board Chair Ian Sherman at the information session, explaining he felt "proud, honoured, humbled and blessed" in the face of such a community response . "So many people in the community have said 'Hineni, here I am, here we are,' and put up their hands to help." (To view a recording of the session, visit here.) 
The training for volunteers was led Andrea Gardner, the associate executive director of JFS. Gardner explained that JFS is a community leader in the settlement process and has been helping newcomers to Ottawa for 40 years.
"We are proud of our expertise in this area. We help to inform the city of best practices when working with newcomers and we are fierce advocates when it comes to the needs of newcomers in their resettlement journey," said Gardner of JFS's work.
As of April 11, "over 7.1 million people have been internally displaced since the invasion of Ukraine, according to the second Ukraine Internal Displacement Report issued by the International Organization for Migration (IOM)," said Gardner. "More than 50 per cent of displaced households have children; 57 per cent include elderly members; and 30 per cent have people with chronic illnesses."
Gardner explained there are still many unknowns and volunteers will need to be patient as the situation and the needs become clearer. 
"We don't know what to expect —  a critical mass of newcomers, a slow trickle, or a wave. Almost 120K visa applications have been received by the Canadian government. Approximately 32K have been approved. We have no way of tracking how many actually intend to come. But we do know that we need to be prepared."
One of the ways our community can prepare is to follow Jewish Ottawa's dedicated pathway for volunteering. The first step is to fill in this form to register with JFS. Volunteers will be screened with Police Record Checks and once volunteer opportunities have been defined, JFS will contact registered volunteers. 
"If you have registered, we may tap you on the shoulder if your skill set or offer could be of use sooner than later and as we are working with other groups in Ottawa to support Ukrainian arrivals," said Gardner.
While potential volunteers wait for possible roles, Gardner recommends people create "Welcome Circles." Welcome Circles provide a social network and support to newcomers. They are teams of 5 to 10 people who provide hands-on support in the early days of arrival and as newcomers settle in. 
"It is a commitment of time, skill, and energy," explained Gardner.
People are encouraged to form their own Welcome Circle by using their network; or JFS can match you with a group based on need, availability, and skill. (Please email Rebeca at rpalacious@jewishottawa.com  if you are interested and would like to be matched with a group.)
JFS recommends that members of the circle have a variety of skills and availability so that members can cover off and support each other.
Some examples of what a Welcome Circle does:
Welcome newcomers; provide daily calls to families and show people the city
Help people find health care, for example, vaccination clinics, dental care as well as mental health supports
Set up school enrollment; language classes; translation help; bus passes and driver's licenses; phone and internet connections; opening bank account.
Help people integrate with the community through recreational activities, summer camp registration, networking with like-minded friends and connections
Help with necessary applications
Meanwhile, enforcing the severity of the ongoing crisis, Federation's partners in Ukraine shared the tragic and horrific news that at least 1,563 civilians have been killed since the Russian invasion of Ukraine began, according to UN estimates. 
Earlier this week, President Zelensky said that Ukraine plans to model itself after Israel and not Switzerland in the aftermath of the war, when it comes to issues of national security. 
"I think all our people will be our great army. We cannot talk about 'Switzerland of the future' — probably, our state will be able to be like this a long time after. But we will definitely become a 'big Israel' with its own face," he said. 
Jewish Federations have raised more than $44 million for Ukrainian relief efforts since collections began, and a third round of funding was just distributed. To hear the story of one young refugee, watch this video where she shares her optimism and urges hope. It is heartwarming that Jewish Ottawa has contributed $360,000 to relief efforts. 
In other efforts by Jewish Federations, the first contingent of Russian-speaking Jewish professionals from North America arrived at the Ukrainian border this week to provide translation services and humanitarian assistance. The program is being coordinated by Jewish Federations of North American in collaboration with the Jewish Agency and the JDC. 
Learn more about how your donation is helping here. 
If you would like to make donation, please visit here.